Bi-Directional Amplifiers​​
Is your building in the emergency communications dead zone?
​
First responders depend on reliable two-way communications to keep lives and property safe. However, first responders in areas that are away from the public radio antenna often suffer from poor coverage. If there are dead spots in your building, their emergency communications can't get through. To complicate things further, first responders inside the building may also experience dead spots.
A building's radio signal strength is determined by the location of the public safety radio antenna and the building's environment, construction, and size. Depending on the location and orientation of the building, signal strength may vary. In-building radio signal strength is weakened by features such as concrete, metal, low-e glass and underground structures.
Building Materials Block Radio Signals
​
Fire, police, EMS, and other public safety personnel rely on two-way radios daily. Their safety, as well as the safety of the building occupants, depends on reliable communications. While public safety radio systems are designed to provide reliable outdoor signal coverage, indoors those signals are much weaker or non-existent. Building materials such as concrete, metal, low-e glass, and even drywall among other items degrade these radio signals. This causes spotty radio reception and transmission.
​
An ERCES System (Emergency Radio Communications Enhancement System) using a BDA receives a signal from the public safety radio repeater through a donor antenna on the building's roof. The signal is then amplified and distributed throughout the weak signal areas of the building via coaxial cable, signal couplers, and antennas. This is also referred to as DAS (Distributed Antenna System).
Example of radio signal strength blocked by foliage and construction materials, resulting in loss of radio communications between first responders and their command.
Over 98% of first responders report building dead spots which impact their communications and safety. In the past 2 years 56% of first responders experienced in-building communications failure during emergencies. 31% say they have experienced communications failure within the last 6 months.
Our emergency radio communication enhancement system can provide 100% in-building coverage. It achieves this by boosting signals from the public safety radio repeater with a bi-directional amplifier, also known as BDA in the life-safety industry, and distributes them throughout the building using the distributed antenna system.
The BDA receives and amplifies transmissions from radios inside to the repeater antenna outside, safe guarding reliable, two-way communications. Current codes require over 95% emergency responder radio coverage in all new buildings. IFC requires acceptable signal coverage through 95% of the building, in all areas on each floor. NFPA requires 99% building coverage in critical areas and 90% in general areas.
​​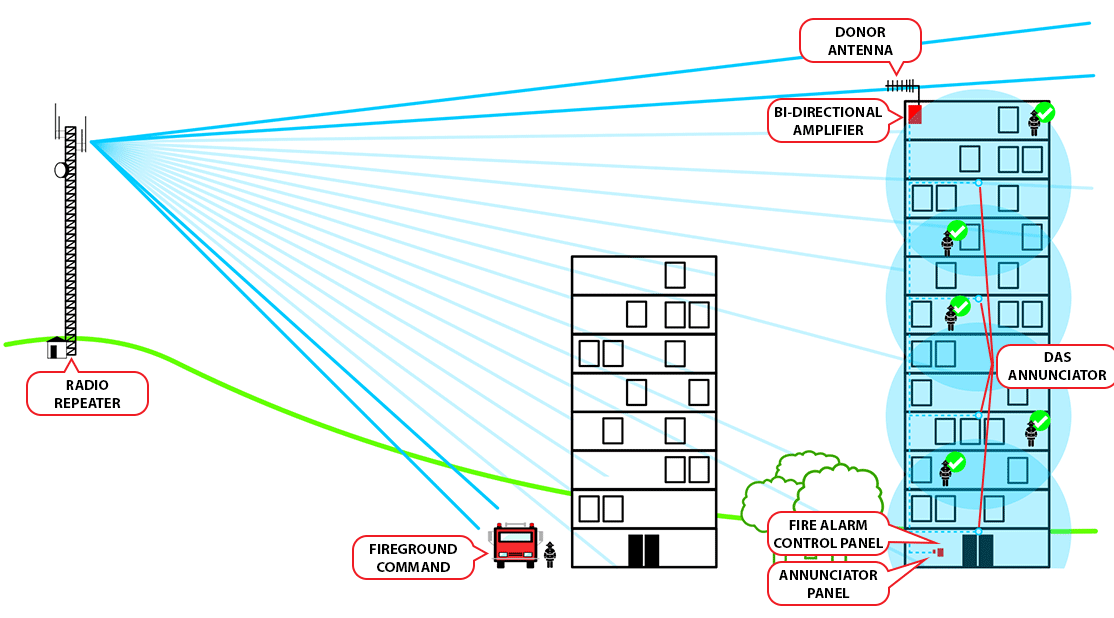 Distribution of radio signals throughout building through use of BDA, providing 100% in-building coverage.
UL 2524 product performance listing for BDA manufacturers ensures systems adhere to these strict IFC and NFPA codes. Honeywell is the first fire and life-safety company to market a fully integrated UL 2524 listed BDA solution. Honeywell's bi-directional amplifier meets all frequency requirements in all jurisdictions requiring class B BDA's and exceeds NFPA and IFC specifications, helping to protect occupants and the emergency teams who risk their lives to protect them.
Large, high-rise landmark buildings using in-building radio communications signal enhancement.
​
​
Two-way radio communications enhancement systems are used in a wide variety of applications, from large high-rise landmarks to smaller apartment buildings, schools, warehouses, tunnels and other structures. These systems greatly expand the radio coverage used by emergency first responders, eliminating radio communication dead zones.